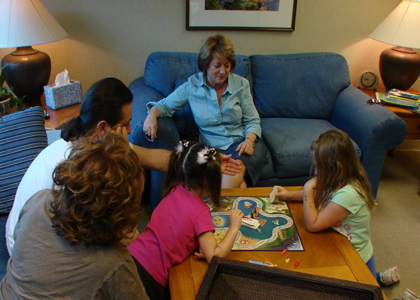 Families and Children Program
August 1st, 2016 | TraumaResilience

Categories: There is no tags

Comments: No Comments
Individualized and group services for couples, families, and their children.
The Families and Children Program addresses the immediate and multifaceted needs of child or youth ages 6-17 and their families by providing crisis intervention, advocacy, emotional support, counseling, financial assistance and case management services.
The program helps youth understand and cope with their reactions to the trauma and learn healthy options for expressing feelings and conflict resolution. Crisis intervention also prevents further emotional and social disruption that primary victims and witnesses often experience.
Traditionally, when families experience victimization, the parents are treated first, leaving the needs of children inadequately met or unmet. In order for successful trauma recovery to occur, it is imperative that parents and children go through the healing process simultaneously. It is important that a child's emotional, physical and psychological needs be met on an individual basis with a well-trained professional who is dedicated to that child's particular needs. The Families and Children Program focuses on each child independently, as it guides the entire family as a unit through the process of trauma recovery.
This program also hosts unique programs geared toward children and youth, including:
BROTHERS™ (Brothers Reaching Out Toward Healing, Exploration, and Respect of Self), an eight-week support group for boys and young men ages 6-17.
The Girls' Group™, a six- to eight-week support group for girls and young women, ages 6-17, who have witnessed or experienced violence.